Before I get into this week's Sunday Social post I would first like to say that my thoughts and prayers are with all those affected by the horrible mass shooting at an elementary school in Newtown, Connecticut. It honestly breaks my heart that so many young lives were lost in such a tragic way. Now, more than ever, we need to pray to God to comfort those families and to bring peace into their hearts. As a nation, we need to cleave to the Lord.
If you would like to donate to help those who have been affected please visit either of the below sites:
Benefiting the Sandy Hook Elementary School PTSA Organization:
Newtown Youth & Family Services benefiting those directly affected by the Sandy Hook Elementary school shooting:
Please if you can, GIVE.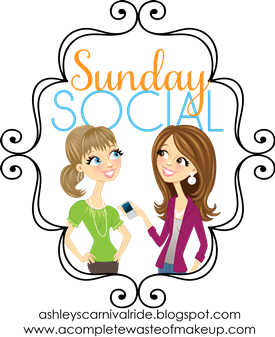 What is the wallpaper on your cell phone?
Since I can't find any good wallpaper apps for my droid (if you have one let me know!) I have to peruse Google images to find a cute background. Right now I'm all decked out for Christmas with a red and green chevron design!
What do you keep beside your bed?
My home telephone, books/magazines, Bible, and my thirty-one organizer that hold my chapstick and lotion.
What is your least favorite chore?
It's a tie between dusting a ironing. I'd rather clean the bathroom, vacuum, and mop 10 times over rather than doing either of those. Yuck.
If you could eliminate one thing from your daily routine, what would it be?
Putting on make-up each morning. I LOVE make-up, I just hate the process of applying it all. I could sleep an extra 15 to 20 minutes each morning if I chose not to wear it.
What do you do to vent anger?
To be honest, I usually bottle my anger. Which is SO bad. It gets to a point and then I burst...and usually Nathan gets the full brunt of my bad attitude. I need a healthy way to get out those feelings.
What is your favorite Holiday of the year and why?
Christmas, most definitely. I love all the traditions surrounding it and spending time with loved ones!